Order your Ring Sizer - FREE
If you don't know the ring size you have, don't worry! We can ship you free of charge a measurement kit specially designed to indicate precisely the ring size.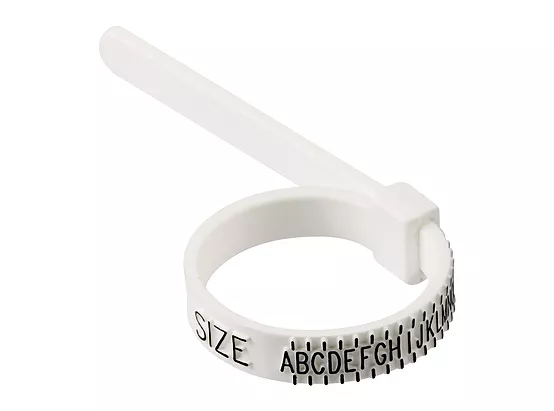 Just fill in your details for delivery and your ring sizer will be on its way.
Useful tips for measuring finger size
Here are a few factors to consider when doing the finger measurement and deciding on the right ring size to buy.
Usually, if your measurement is between 2 sizes and you can't decide which to choose, it's recommended to choose the bigger size because it's easier to resize a ring down (shrink it) then to make it 1 size bigger.
The best time to measure your finger size is in the evening. Most people experience their fingers being at their largest in the evening and smallest in the morning. Measuring your finger in the evening will guarantee a comfortable fit.
Another factor to consider when measuring your finger is temperature, fingers tend to shrink when exposed to cold weather and tend to expand in warm and humid environment. For getting the most accurate fit, measure your finger in the evening at room temperature.
A lot people don't know, but there is a difference in finger size between the right and the left hand.
The dominant hand usually tends to be a little bigger so always measure the exact finger on which you want to wear the ring.
Slip the ring sizer on to your finger and adjust to give a comfortable fit, check that it just slips back over your knuckle. Read the first letter shown in the left side of the stopper, that is the right ring size.
The system used on our website is the European Standard ring size, it averages from 46 to 54 for women. If you don't have another information or exact measurement, it's best to choose in this range.

Rings can typically be resized up to two sizes larger or smaller, depending on your setting and the type of metal. Resizing a ring too many times will weaken the metal and could eventually damage the ring. Whether you need to resize your ring up or down the resizing process is usually a simple one.